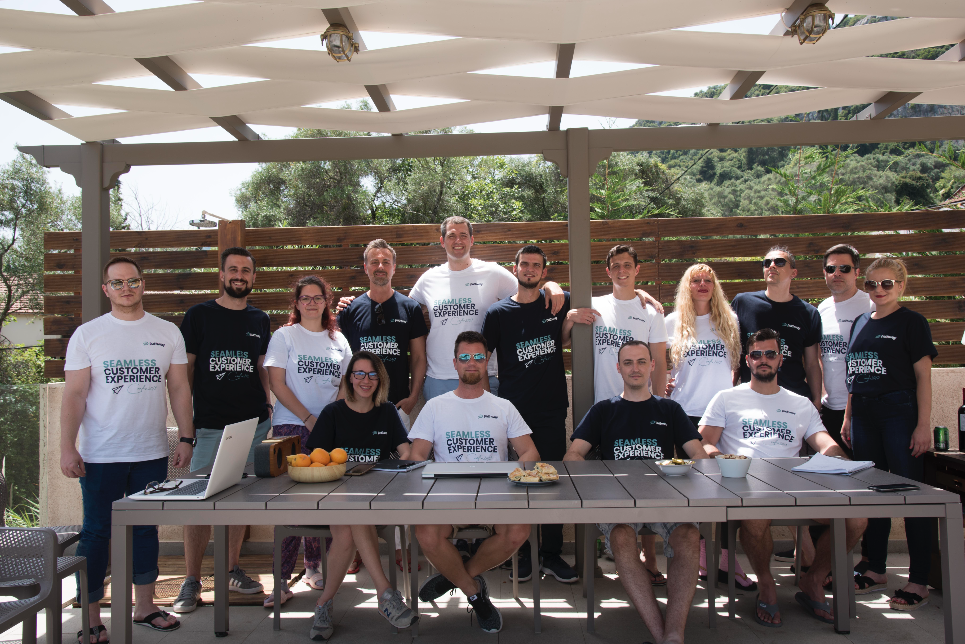 We took our engineers, sales and customer support teams to the beautiful Greek island of Corfu this month. Our goal was not relaxation and rejuvenation (although we did manage to take in the beautiful sights and beaches). We were there to bring three key groups together for team building and to brainstorm ways to make the Pathway platform better for our customers.
It was a jam-packed week filled with whiteboards, flow charts, beaches, internal process reviews, stunning local architecture, workflows, poolside fun, good food, and ultimately a clearly documented roadmap that we can use in the coming months to add more value for the brokers and agents that rely on Pathway.
We're excited to share three of the key takeaways (and, of course, some fun photos) from the retreat. Here goes:
We Benefit From Stepping Into Your Shoes


One of the highlights of the retreat was an activity where we divided our engineers, sales and customer support teams into two different groups  — "brokers" and "customers". Each group tried out our products from both of these unique perspectives and provided valuable feedback. As a result, we identified some changes that will enhance the product experience for both our brokers/agents and their policyholders. We also mapped out the customer journey so we can make it easier for customers to get the most out of Pathway.  

Rapid Growth Requires Standardization  


Our internal teams have grown significantly in a short period of time. Because of that growth, we're still figuring out some of our own internal processes and workflows. During the retreat, we were able to standardize many of those processes, which will help our teams manage workloads more efficiently and continue to grow quickly in order to scale with our customer base.

We've Got Big Plans for New Products & Features
Not to brag on ourselves, but we've recruited a talented and highly motivated team that's excited about making Pathway the go-to automated marketing platform for brokers and agents. It was inspiring to watch everyone on the team introduce smart ideas for new products and features  — many of which will be implemented later this year or in early 2020. Stay tuned!
In addition to these three takeaways, we discovered how much we enjoy hanging out as a group. When we weren't planning out what's next for Pathway, we made time to:

Take a boat ride to a nearby island once used by World War I soldiers.


Visit nearby beaches


Admire the architecture and enjoy the food in the "old town"


Team up in groups of 3 to cook and clean (and of course compete to see who could make the best meal!)


Play board games and sports (basketball, volleyball and water polo)


It was definitely a week well spent, and we look forward to planning and sharing next year's adventure with you.